Friday, July 21, 2000 Day 6
Today we had a guided tour of David's statue in the Accademia - this is the authentic one not the copy. Our tour guide was Nato. It was simply beautiful to see how well Michelangelo captured every bit of the human anatomy as far as the veins and the ribs and muscles. The high point of Michelangelo's early style is the gigantic (4.34 m/14.24 ft) marble David (Accademia, Florence), which he produced between 1501 and 1504, after returning to Florence. He used one piece of Carotta marble to carve David. The Old Testament hero is depicted by Michelangelo as a lithe nude youth, muscular and alert, looking off into the distance as if sizing up the enemy Goliath, whom he has not yet encountered. The fiery intensity of David's facial expression is termed terribilità, a feature characteristic of many of Michelangelo's figures and of his own personality. David, Michelangelo's most famous sculpture, became the symbol of Florence and originally was placed in the Piazza della Signoria in front of the Palazzo Vecchio, the Florentine town hall. With this statue Michelangelo proved to his contemporaries that he not only surpassed all modern artists, but also the Greeks and Romans, by infusing formal beauty with powerful expressiveness and meaning.
Look at the detail on his hand:
This is one of the many Pietas Michelangelo did but did not finish.
We also visited Santa Maria del fiore, Giotto's Bell Tower and the Baptistry with the Gate of Paradise Doors.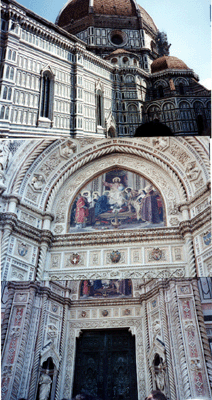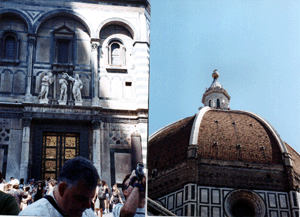 We went to COI - the gold center. Then we were left on our own - we did some shopping. We then met up with the group to tour the Church of Santa Croce. This is where the crypt of Galileo is kept. He is among one of the famous Italians buried in this church.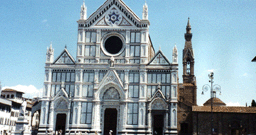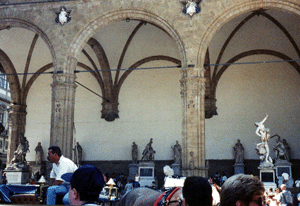 We then went to the leather shop, and then on to Ponte Vecchio to do more shopping. We did lots and lots and lots and lots of walking.
Tonight we went to dinner at Villa Viviani. It is surrounded by fields overlooking Florence. It is three miles from Florence on the hillside. The flowery terrace on which it is situated looks over olive groves and vineyards. It is a house with two floors. It is a plain building as square as a box painted in light yellow and green shudders. This villa was formerly known as Belvedere. It is where in 1892, the Viviani family let Mark Twain live with his family for a year and wrote , "Pudd'nhead Wilson". It was like a wedding reception. For dinner we had risotto, macaroni, chicken and beef, and lemon pie. There was dancing. A good time was had by all. Many people were celebrating 25th and 30th wedding anniversaries and we also had 2 sets of newlyweds.
Here is a picture of us standing in front of the villa and different scenes inside and outside also a panoramic view from the grounds: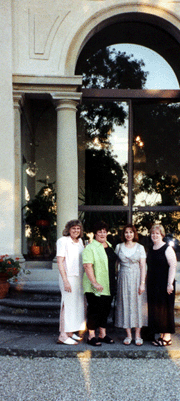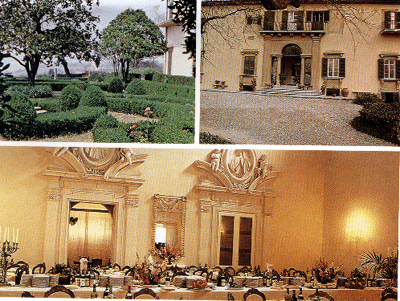 This is a view from the villa: