Wednesday, July 25th Day 11
Our wake up call today was at 7:00. Breakfast was at 8:00. We took off for Sorrento at 9:00. On the way to Sorrento, we stopped in Naples. Tour groups usually do not stop in Naples because of the high amount of crime. This is actually where the Mafia is. It is a young Mafia composed of street gangs. The Mafia was a hidden power inside the government - a secret society started in the 14th and 15th century to help Italy get away from France, Austria, etc. It started the second economy - nothing to do with rulers. Garibaldi defeated Austrian king of two Sicilies with the help of the Mafia. The Mafia is now a criminal organization. Since 700 years ago, Southern Italy was poor under foreign rule. Unemployment rate in Southern Italy is 18 - 20%. 90% of Italian Americans immigrated from Southern Italy. Petroleum has been discovered here so this may help out the poverty in this area. The area we stopped in was relatively safe. We stayed long enough to have a bite to eat and sample their delicious pastry and look around awhile. Here are some scenes from Naples: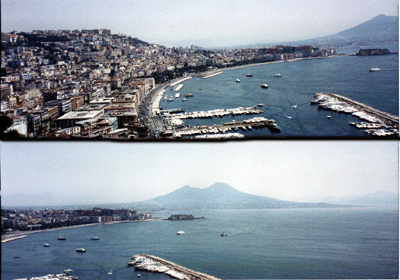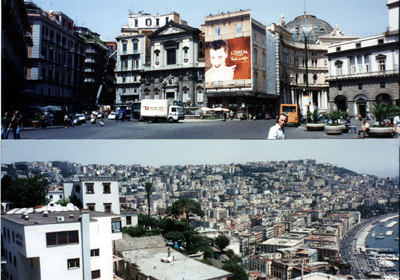 We also stopped at a Cameo factory - Giovanni APA.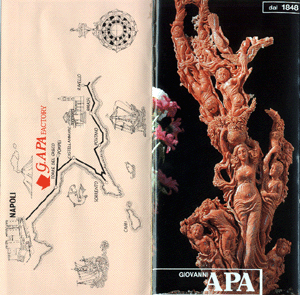 We saw a demonstration on how the cameos are carved out of shells. Each cameo is unique. They are all handmade. The more detail, the more they are valued.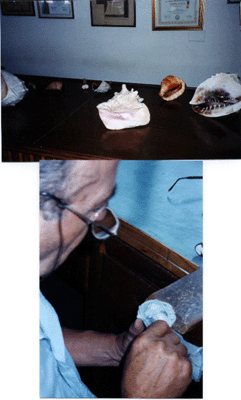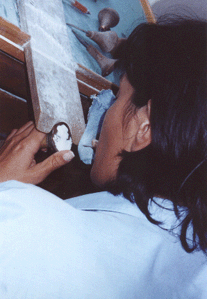 Then we were on our way to Pompeii. It takes an hour to get here from Rome. Enzo was our guide here. This was a big Jewish community. It was 4 square miles. There were many stores and small houses. They had lead pipes for the water. They were many pornographic pictures here. Way back, there was much VD here. Here are sights from Pompeii, the community that was left in ashes from Mt. Vesuvius.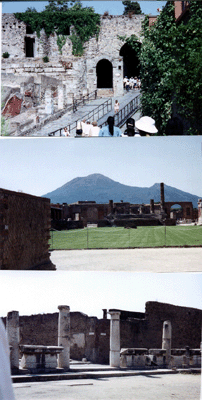 This last picture shows the utensils they used.
Here are pictures of bodies that were covered with the ash from Mt. Vesuvius: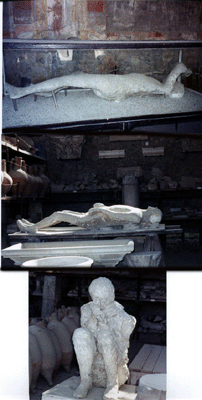 Here is the community tub: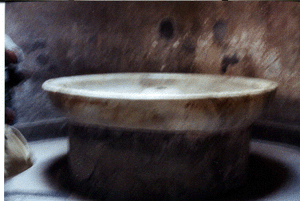 Here are some exaggerated paintings from the Pompeii inhabitants: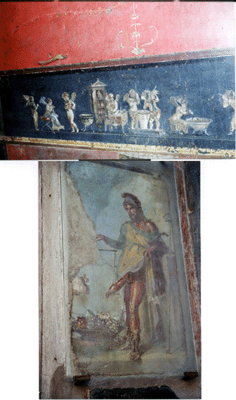 rom Pompeii to Sorrento it took one hour. We checked into the Sorrento Palace Hotel. Of all the hotels, this one we liked the least. It had a beautiful pool and lobby but the rooms were just OK. We had supper at our hotel. Here is the menu: