Sunday, July 16, 2000 Day 1
The white stretch limo that picked up Kathy, Maureen and myself at Kathy's condo was quite impressive. We continued on to Stephanie's house to pick her up where Maureen popped the cork of a bottle of champagne to toast to our vacation.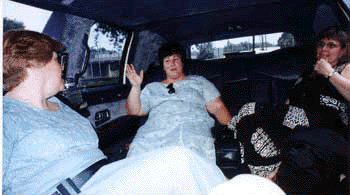 I couldn't join in because at that point I was feeling a bit nauseous. I guess the potato gnocchi I had at 10:45 were a bit to heavy laying on my stomach. The limo driver's name was Allan and he got us to JFK by 2:30 p.m. Our flight was to be at 5:30 aboard Alitalia.
Here we are waiting to board the plane: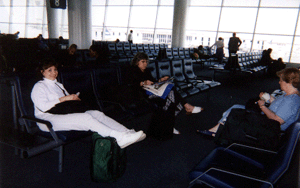 Well little did we know that Alitalia was grounded in Italy and they put us on Tower Air that is generally a charter plane. Tower Air wasn't by any means a luxurious airplane. It was barely put together by chewing gum as was evidenced by the leaky ceiling that the flight attendant was trying to stuff paper towels into. The poor guy sitting below the leak had a wet chair to sit in. The flight was smooth in spite of the plane. My stomach however was no better throughout the flight. The flight took about 7 hours and 10 minutes.